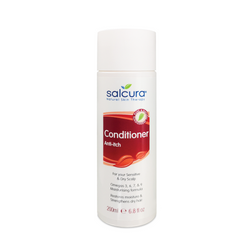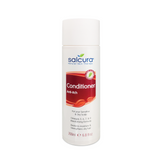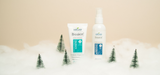 An ideal complement to Salcura Shampoo, as well as dealing with a problem scalp, the Conditioner leaves hair feeling replenished with its fullness restored.

Our products do not contain Steroids, Paraffin, Sodium Laureth Sulfate and Sodium Laurel Sulfate (SLES & SLS), Parabens, Petroleum Jelly, Diethanolamine (DEA), Phthalates or Synthetic Fragrances.
For extra nourishment for particularly dry or unbalanced skin, you might like to try DermaSpray Intensive. Part your hair into sections and spray directly onto the scalp.
Our Omega Rich Conditioner has been a firm favourite for those with sensitive scalp who are looking to avoid harsh, scalp-upsetting chemicals. It will help to condition the hair whilst deeply nourishing the dry and itchy scalp.
Our customers often call us asking if we can help with their dry, flaky scalp, which may have become a result of their dry skin, dandruff or possibly their psoriasis or eczema. Our GM herself often struggles with flakiness, there is nothing more frustrating than those specks of white on top of your head, or the itchiness that comes with it!
Although it is hard to completely resolve the issues, especially when you for example dye your hair, which can be very harsh on the scalp, it is important you feed your scalp the healthy nutrients it needs to balance out and become healthy.
Key benefits

Salcura Conditioner is packed with Omegas 3, 5, 7 & 9 thanks to the brilliant Sea Buckthorn berry. Often times a dry scalp is an indicator of an Omega 3 and vitamin deficiency. Sea Buckthorn is a brilliant ingredient, containing not just lots of Omegas but it also contains more Vitamin C than an orange!
It contains other vital skin-essential nutrients from ingredients like Starflower, Sweet Orange, Sunflower and Rosemary to help soothe, moisturise and protect the scalp.
Starflower (also known as Borage) to regulate the moisture levels of the skin, Sweet Orange to boost circulation in the skin, Sunflower to help with roughness and Rosemary to provide iron, calcium and other vital nutrients.
We recommend using the Omega Rich Conditioner after using our Omega Rich Shampoo to achieve maximum results.
Apply our Conditioner after having used Omega Rich Shampoo. Apply the Conditioner to wet hair, leave it is soak in for a little while. Rinse with preferably lukewarm water.
Aqua, Cetyl Alcohol, Behentrimonium Chloride, Starflower Essential Oil (Borago officinalis leaf extract), Phenoxyethanol, Isopropyl Alcohol, Sea Buckthorn Oil (Hippophae rhamnoides kernel extract), Sweet Orange Essential oil (Citrus aurantium dulcis peel oil), Ethylhexylglycerin, Caprylyl Glycol, Sunflower Seed Oil (Helianthus annuus seed oil), Beta-Carotene, Citric Acid, Rosemary Essential Oil (Rosmarinus officinalis leaf extract), Limonene