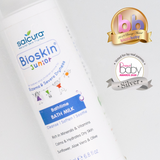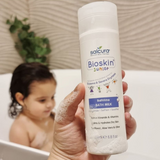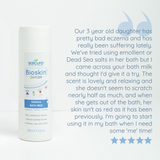 We have some exciting news, we have been able to improve our already great Bath Milk!
Taking your feedback on board, we have put the Bath Milk in a new, easier to use bottle. Plus, we have updated the formulation to contain even more amazing oils and extracts, like Sunflower, Aloe Vera, and Olive to ensure your little one's skin is nourished even whilst bathing.
Our Bioskin Bath Milk has especially been developed for those little ones who have dry and sensitive skin. This natural, non-slippery, Bath Milk will hydrate, nourish and support the severely dry skin when bathing. Especially for those kids with sensitive skin, bathing can be a trying time with the water further dehydrating the skin. 
Our Bath products have especially been developed to ensure optimum care and hydration even when bathing. Especially for children that suffer from severely dry skin, taking a bath can be a painful daily event, with the water further dehydrating the skin. Our Bath Milk is a gentle, non-slippery milk perfect for use when bathing. Also suitable for babies and children who may be prone to eczema, dermatitis and other skin allergies.
The Bath Milk is a wonderful complementary product to our Bioskin Junior Daily Nourishing Spray and Bioskin Junior Outbreak Rescue Cream. Containing beautiful natural ingredients like Aloe Vera, Sunflower and Calendula, your little one's skin is nourished and soothed, ready for a good night sleep!
Please know that our products do not contain any of the synthetic ingredients that create a big foamy bubble bath. Although we appreciate this might be fun, we feel the synthetics that are used to create such foam are not desirable for products that are designed for children with dry and sensitive skin.
When suffering from dry skin or sensitive skin, try and keep the bath water on a lukewarm temperature as hot water can dehydrate the skin even further. Use around 3 cap fulls in the bath, but feel free to use more if you so desire. Be aware our Bath Milk will not lather. Use in conjunction with other Bioskin Junior products for maximum results.
Aqua, Helianthus Annuus (Sunflower) Seed Oil, Aloe Barbadensis (Aloe) Leaf Juice, Olea Europaea (Olive) Fruit Oil, Ceteareth-20, Glyceryl Caprylate, Glyceryl Stearate SE, CetylAlcohol, Sodium Cetearyl Sulfate, Lavandula Angustifolia (Lavender) Oil, Phenoxyethanol, Xanthan Gum, Benzoic Acid, Potassium Hydroxide, Calendula Officinalis (Calendula) Extract