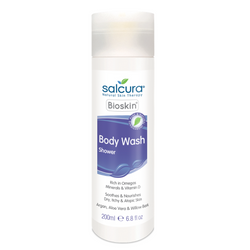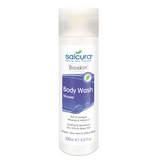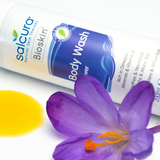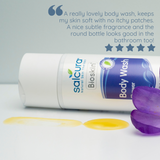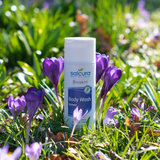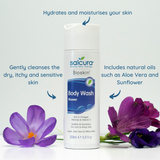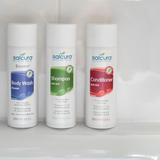 Bioskin Body Wash is a natural wash to gently cleanse the dry, itchy and sensitive skin whilst enjoying a shower. Water can further dehydrate the skin, so having a showergel that takes care of the skin whilst taking that shower is very important. Our 'nasties-free' nutrient-rich formulation will leave the skin feeling soft, smooth and nourished.

A little Tip from our Managing Director: "When suffering from dry skin, use our Body Wash as a Hand Wash to soothe and hydrate your skin even when washing your hands. We now know for definite how incredibly important it is to wash our hands regularly, however for those of us with dry hands, using synthetic-based washes or sanitisers can further dehydrate the skin, making it itchy and uncomfortable. I just decanter the Body Wash into a refillable Hand Wash pump and my hands are very grateful for it!"
Containing gorgeous natural ingredients like Sunflower, Green Tea and Argan will make this Body Wash suitable for those even with the most sensitive of skins. The wash does not foam much as it is that natural, but it will leave your skin feeling nourished and soothed.
Bioskin Body Wash is the perfect addition to your other Bioskin favourites. When suffering from dry, itchy & sensitive skin your skin needs more than what a regular, off the supermarket shelf, shower gel can offer. It needs less potentially skin irritating chemicals like SLS/SLES, paraffin, parabens or synthetic fragrances (parfum). Instead, you need a nutrient-rich, gentle Body Wash that will hydrate and moisturise your skin.
This is exactly what our Body Wash will offer you! Water can be quite tough on already dry skin, especially when living in an area with hard water. The natural oils and extracts, such as Aloe Vera, White Willow and Sunflower in the Body Wash will help your skin stay hydrated and feed your skin the nutrients it needs to become healthier.
When already using our Bioskin treatment products, make sure to add this beautiful gentle wash to your favourites to complete your daily regime, giving your skin the best chance to be healthy.
Our Body Wash is also suitable for those who may be prone to eczema, psoriasis and dermatitis.
When suffering from dry skin, try and keep the shower on a lukewarm temperature as hot water can dehydrate the skin even further. Apply the Body Wash to damp skin and leave it on for a short while. Rinse off and use again if so desired. Be aware our Body Wash will not lather as much as you might be used to. We use natural foaming agents which will create a lovely gentle foam when using it in the shower. Use in conjunction with other Bioskin products for maximum results.
Aqua, Lauryl Glucoside, Glycerin, Cocamidopropyl Betaine, Aloe Vera Leaf Juice (Aloe Barbadensis Leaf Juice), Starflower Leaf Extract (Borago officinalis leaf extract), Green Tea Leaf Extract (Camellia Sinensis Leaf Extract), White Willow Bark Extract (Salix Alba Bark Extract), Xanthan Gum, Phenoxyethanol, Sunflower Seed Oil (Helianthus annuus seed oil), Guar Hydroxypropyltrimonium Chloride, Sea Buckthorn Kernel Extract (Hippophae Rhamnoides Kernel Extract), Ethylhexylglycerin, Caprylyl Glycol, Argan Kernel Oil (Argania Spinosa Kernel Oil), Sweet Orange Peel Oil (Citrus Aurantium Dulcis Peel Oil), Lemongrass Herb Oil (Cymbopogon Flexuosus Herb Oil), Limonene, Citral, Safflower Seed Oil (Carthamus Tinctorius Seed Oil), Calendula Extract (Calendula Officinalis Extract), Dead Sea Salt (Maris Sal), Geraniol, Beta-Carotene