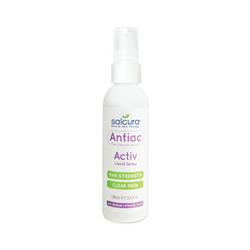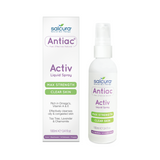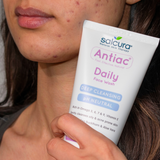 Our Antiac Activ Liquid Spray has been specifically designed to successfully help anyone suffering from oily, congested and acne-prone skin. A Spray for the face (and body) may seem unconventional, but trust us and all those fans who have found out about Antiac before you - you will love it!
The fine liquid of our unique Antiac Activ Liquid Spray sinks deep into the skin, cleansing the skin deeper than any cream, gel or wash ever would be able to. Additionally, the vitamins and minerals found in the natural ingredients will feed the skin from the inside out, allowing it to gain strength. The skin will feel refreshed, deeply cleansed and nourished.
So close those eyes and spray away, you will be shocked to see how much dirt you will find on your cotton pad (a recyclable one ideally!). All that pollution and those bacteria come straight off, whilst not stripping the skin off its natural oils. And of course, Spray it back on and let it sink in once your skin has dried to make sure your skin enjoys the benefits of all those amazing ingredients.
This intensive natural acne spray is formulated to deal with moderate to severe acne on the face & body. The spray is particularly great for hard to reach areas of acne, such as acne on the back (bacne).
When launched over 5 years ago, our unique Antiac Activ Liquid Spray won the prestigious accolade of Best Acne Product on the program 'Embarrassing Bodies'. Since then we have updated the formulation ever so slightly to ensure we keep up with the newest techniques and developments in skin care, without losing the efficacy our Antiac products are known for.
The Antiac Activ Spray can be used as a deep cleansing product, with the natural oils sinking deep into the skin. All oils and extracts contribute to the reduction of any symptoms associated with Acne, like spots, blemishes and blackheads. Our Antiac range contains unique and clinically proven ingredients Skinwell DFA and ZPA plus. Both ingredients have the proven ability to significantly reduce any symptoms associated with Acne, like spots, blemishes and blackheads.
For maximum results, use the Activ Liquid Spray in conjunction with our Activ Gel Serum to target individual areas. Once your skin has shown improvement of a more even complexion, you can consider moving to our Antiac Daily Wash to ensure your skin keeps being topped up with the vital nutrients to stay healthy.
Use morning and evening when necessary. Spray onto the face and gently cleanse your face by using a cotton pad to remove the liquid of your face.

When suffering from severe acne symptoms, spray the liquid on the face again and let it sink into the skin or gently massage it into the skin (make sure your hands are clean before doing so to avoid any additional bacteria being rubbed into the skin!). Use our Antiac Activ Liquid Spray in conjunction with our Antiac Gel Serum for quick reduction of singular spots.
Aqua, Aloe Vera Leaf Juice (Aloe Barbadensis Leaf Juice), Glycerin, Caprylyl/Capryl Wheat Bran/Straw Glycosides, Tea Tree Leaf Oil (Melaleuca Alternifolia Leaf Oil), Lecithin, Zinc PCA, Bisabolol, P-Anisic Acid, Calendula Extract (Calendula Officinalis Extract), Chamomile Leaf Extract (Chamomilla Recutita Flower/Leaf Extract), Sea Buckthorn Kernel Extract (Hippophae Rhamnoides Kernel Extract), Lavender Oil (Lavandula Angustifolia Oil), Rosemary Leaf Oil (Rosmarinus Officinalis Leaf Oil), Peppermint Oil (Mentha Piperita Oil), Sweet Orange Peel Oil (Citrus Aurantium Dulcis Peel Oil), Eucalyptus Leaf Oil (Eucalyptus Globulus Leaf Oil), Tocopheryl Acetate, Cetearyl Glucoside, Fusel Wheat Bran/Straw Glycosides, Phenoxyethanol, Limonene, Benzyl Alcohol, Decyl Glucoside, Glyceryl Caprylate, Polyglyceryl-5 Oleate, Sodium Cocoyl Glutamate, Linalool, Citral, Geraniol, Alcohol, Arginine, Glyceryl Laurate, Polyglyceryl-3 Caprylate, Polyglyceryl-4 Caprate